Interface's commitment to sustainability is beyond commendable. Their endeavour to preserve our planet and improve it for generations to come is a testament to what organisations can do when they focus their efforts on a good cause. The brand has proven time and again that great products can be made without sacrificing both the quality of the product or the quality of our environment. Since Interface embarked on the path to Mission Zero® in 1994, the company has been changing the way we view business models from the lens of sustainability.
A Spear in the Chest Moment
The Interface sustainability story starts in 1994 when founder Ray Anderson, having gone through a challenging period one year, woke up to the fact that industrial companies were consuming the Earth's resources at a dangerous rate. "Our founder Ray pushed through with that personal realisation, calling it a spear in the chest moment," says Patrick Riley, Vice President & General Manager – UK, Ireland, Middle East & Africa at Interface. "Over the course of the next 20 years, we have moved to reducing our carbon impact dramatically." A recent step in this journey came in the form of their carbon negative products – the first of which was launched in 2021 as part of the Embodied Beauty™ collection. Being a truly innovative company, Interface sees carbon as a resource as opposed to a waste product. The revolutionary CQuest™BioX backing used in the negative tiles stores more carbon than ever before, preventing it from entering the atmosphere. Put simply, there is less carbon in the atmosphere than if tiles had never been created. "We have done so much work to reduce the underlying carbon impact of the product, it has been a 25-year evolving story," says Patrick "In the 1990s, we were one of the first industrial companies to strive to take the negative impact of the business away. So it has been a long journey and continues to be a journey for us, but we've proven products don't have to be ugly to be sustainable! I think that has been a real element of our success – the ability to turn that responsibility into something that's beautiful and competitively available."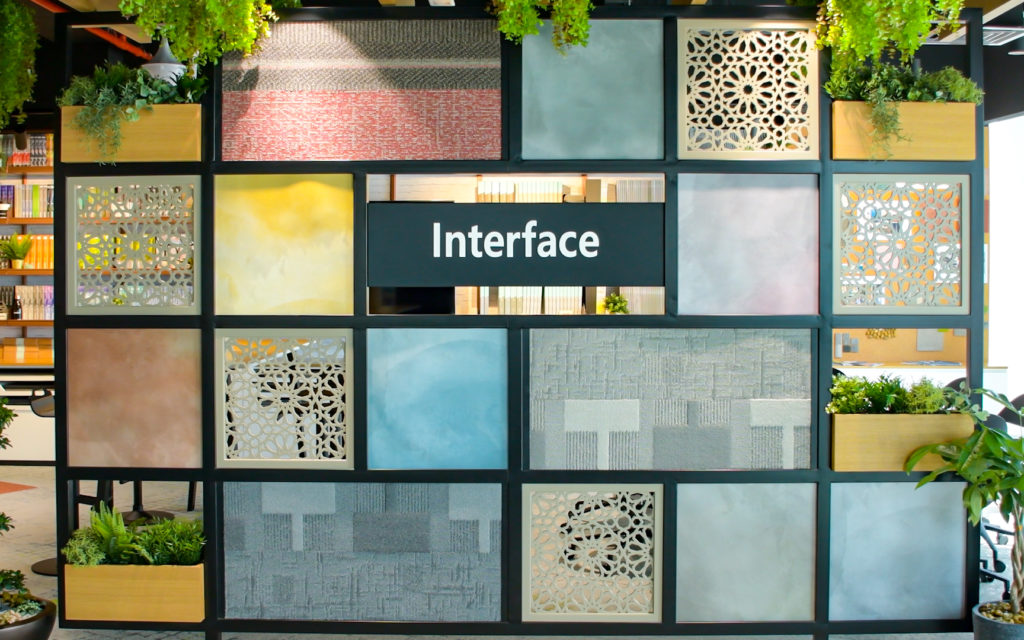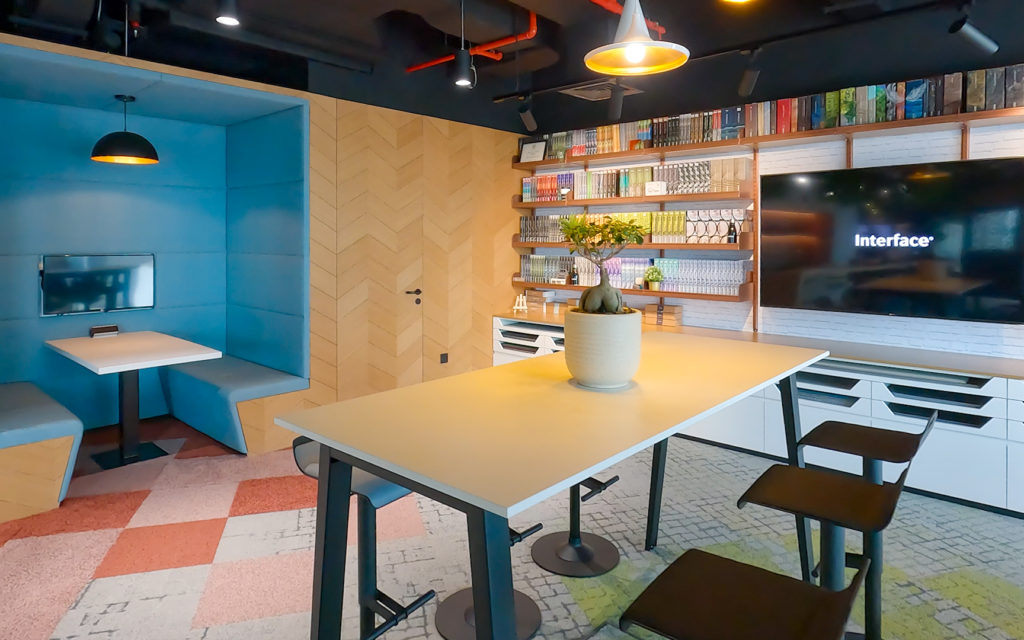 Interface in the Middle East
Interface has operated in the Middle East for over 30 years now, with Dubai being one of the first markets they approached. Over the past three decades, their presence has grown in size and impact, with regional leadership recognising the need for a space to host customers, partners, architects, and designers. This has led to the birth of their new space in Dubai Design District. "We wanted to be able to invite people to not only come and visualise our flooring, but also to collaborate with them to create an environment where they can understand how our products enhance the wellbeing and design of a space, and how they can incorporate a product into their design," says Zubair Ahmad, Regional Director Middle East & Africa at Interface. "So it was really important for us to be able to demonstrate that as a business, to walk the talk so to speak." The new showroom offers a perfect hub for design in the region. "We've created an environment that allows our colleagues to feel good in a space," says Zubair. "Not only is it important for the wellbeing of our own colleagues, but also to fulfill the need to collaborate with our industry. We want our customers to come into our space and work with us to design their interiors. On operating in this region versus the rest of the world, Zubair comments, "I've had the privilege of working in multiple areas within Interface across Europe and India with different groups of people. I think this region in itself is a very diverse place. It's a nation of travellers, and there are lots of us that have come from all around the world and made this our home or a part of our journey in life. Knowing how diverse this location is, inspires us. Our Interface values mean that we learn to collaborate, and to work with each other to create the best workplace. Interface works in partnership with its customers to create amazing spaces. Abigail Tungol, Interior Designer at X-Works, the firm tasked with the design and build of the showroom, talks about her journey through this project. "Designing with Interface was an amazing experience. Our goal was to create a signature space while simultaneously injecting the culture of the brand as well. We have been very careful in selecting materials and products, especially considering Interface's very high standards for sustainability. The goal was for clients to feel at home when entering the space. A key requirement of this showroom design was the ability to frequently change the flooring in order to showcase their range of products. So we made the space in a manner that allowed them to easily play around with the flooring and constantly innovate." As the designers of the space, X-Works ensured that the Middle East culture was integrated into the design, whilst maintaining that the star of the space would still be the brand. "Working with Interface and getting to experience their talent, quality, and work ethic has been a truly great experience," adds Abigail.