Xworks Interiors is a leading provider of collaborative commercial fit-out, design, and furniture solutions in the UAE. The company was founded in 2009, with its doors formally opening on September 9, 2009, the same historic day that the Dubai Metro began operations. It is the objective of Xworks Interiors to serve the market with worldwide quality products and services. They specialises in designing offices with a particular emphasis on ergonomics and the entire work environment. Driven by its commitment to excellence, Xworks Interiors expanded its operations to Abu Dhabi within just six years of its founding. This expansion showcases the company's dedication to delivering exceptional service and meeting the evolving needs of its clients in the region.
"Our golden rule is communication. With our clients, with our suppliers and with each other. We pride ourselves on not only delivering the highest quality office spaces, but in how we deliver them."
Xworks has successfully completed over 300 remarkable and highly functional offices throughout the years. The first quarter of 2023 has been particularly exciting as we have secured new projects from a range of diverse industries, including energy, oil & gas, real estate, shipping, health, banking, and finance. Some of the firm's significant projects include IBM Middle East, Cathay Pacific, Bridgestone Middle East & Africa, Visa Middle East, Siemens, Wizz Air, and others. Worley, Grenke, Emirates Shipping Lines, Al Plus Global DMCC, Maarah Holdings, Terma, and Aldar Investment Properties are among Xworks' current exciting commissions.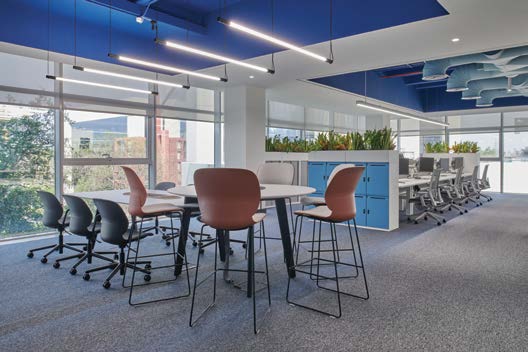 Xworks successfully converted a shell and core space of 13,455sqft into a stunning and efficient office. Despite being a fast-track project, it was completed on time without any QHSE incidents.
Xworks' Dubai office was proudly recognised as a recipient of "Highly Commended" award for our Sustainable Interior Design Initiative in 2017. This recognition serves as a testament to their unwavering commitment to sustainable practices and innovative design, setting a new standard for interior design excellence. In 2017 and 2019, the Dubai Office achieved the LEED and WELL Gold Certifications, marking a significant accomplishment for Xworks Interiors. The company remains dedicated to advancing the standards of workplace well-being and sustainability in the region. They were also honoured to receive the esteemed "Happiness @Work Award" for SME's in 2019 and 2020. This recognition shows the firm's commitment to fostering a positive work environment that focusses on the well-being and happiness of the employees. Our company is working towards several key goals, including ISO certification, Zero Carbon policy implementation, hiring new talents, and educational programs for staff such as LEED AP, PMP certifications. By achieving these objectives, we can enhance our company's credibility, reduce our carbon footprint, build a diverse and highly skilled workforce, and invest in our staff's professional development. These goals are critical to our long-term growth and success and will position our company as one of the top leaders in our industry. The firm is also committed to maintaining a positive workplace culture that values open communication, attracts, and retains young talent, and encourages work-life balance. We take great pride in our low employee turnover rate, with nearly half of our employees having been with us for over five years. Xworks Interiors' yearly revenue in 2022 was AED 22 million in Dubai and AED 17 million in Abu Dhabi. Check out the full Fit-Out Powerlist 2023 here: 
https://design-middleeast.com/fit-out-powerlist-2023/